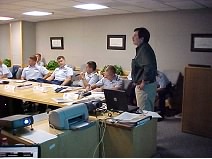 PPS can help develop or "revitalize" your compliance program and provide any level of support that you might need. We have developed a "one stop" concept for this service.
Examine your response equipment
Train your personnel in first deployment
Conduct a review of your plans
Recommend or provide updates
Conduct necessary emergency management team (ICS) training
Conduct security training
Conduct HAZWOPER training
Conduct your required annual exercises
This "one stop" servicing is a very cost effective way to manage your compliance. As with all our services, we can customize this service to meet your local schedule, and minimize disruption to your operation and personnel schedules.
For more information, please click here.