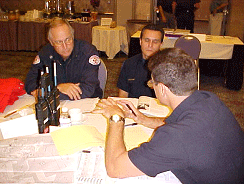 PPS offers a compliance analysis specifically designed to assist you in developing a quality cost effective program. Listed below are some of the steps we would take provide an analysis:
Review your plan/plans. Provide recommendations on improvements.
Conduct a survey of all your personnel.
Conduct a review of your past exercises and develop a schedule.
Visit your site or sites.
Examine any facility or vessel response equipment and make recommendations on suitability, readiness for deployment, etc.
The information collected would identify shortfalls.  By establishing a baseline of your situation and capabilities, PPS can develop an effective schedule for plan reviews and updates, personnel training, and required exercises into a timely and cost effective program.
To contact us for further information, please click here.