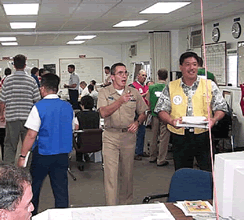 Precision Planning & Simulations, Inc. currently offers instruction on the following topics:
Incident Command System (NIMS ICS) I-100 through I-400 level
Incident Management Team (ICS Position Specific Course)
ICS Planning Cycle Workshop
ICS Forms
Security Officer training
Oil spill pollution response equipment and techniques
Federal (USCG, EPA, etc.) laws, regulations and policy guidance
Media relations and public affairs
HAZWOPER
PPS tailors our classroom instruction to meet your needs. We provide lecture based instruction supported by audio-visual aids, in-class workshops, student notebooks, and handout material. Instructional audio-visual aids include the use of response related videotapes and Power Point presentations to reinforce the lecture.
Under our "one Stop" servicing concept, every training course can be designed to not only deliver the course of instruction, but can be structured to meet your organization's regulatory requirements for your annual exercise. Train your personnel and get your exercise credit at the same time.
PPS has a highly trained staff of instructors. Each of our instructors gained their experience while serving and instructing in the United States Coast Guard.
Contact us to obtain more information about our training.